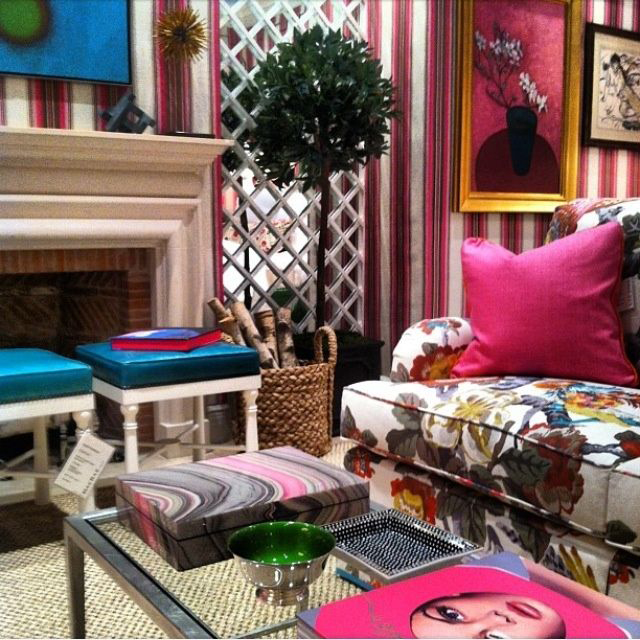 A Smattering of Patterning
Good interior design mixes texture and patterns to create interest. From basic to the more intricate, it all comes down to deciding what kind of "energy" you want to have in the room.
Let's start with the basics, if you want a calm, peaceful space then one or two patterns will do with a lot of solids. This would be perfect if you have a smaller room or a smaller space in general—although, don't ever be afraid of a really cool texture or paint color in the tiniest of rooms.
The first steps in getting a calmer and more basic color or pattern into your life is to take a look at a few magazines and pull tear sheets of what you like. Putting a small collage together will really help you put it all into perspective. It will give you a chance to be creative and really plan your space. Send us your photos of your BEFORE and AFTER spaces and we'll post our favorites right here! (as well as sources for color used, etc)
If you're more the type to "think outside the box", then Go for it! Nothing is more exciting than taking a chance on color or, fabric patterns, or rugs or one of a kind drapes. The only restrictions on planning a space like this is you must decide what you want to live with. Much like I recommended above, taking "tear sheets" out of magazines, or taking photographs in stores you like, etc can really help. If you want exciting and electric, mixing colors and patterns helps. For example, the rug can become the main pattern and dictate color or the wallpaper can be the pattern and surround you with "mood".
Overall, the main suggestion I can give you is that you need to close your eyes and "imagine" the life of your space…and how often you will change it…then it will be easier to decide how you want to decorate your room. Don't be afraid to create color, add patterns and experiment with fabric patterns and fabric color…there's nothing to worry about. Space planning is supposed to be fun and everything you choose will be something personal.