Accent Your Home With Luxurious Tile
Tile is not a just a backsplash
It's an accent to your home. I've had clients tell me they have never considered tile as an opportunity to decorate, as it's just a floor or a backsplash or an arbitrary background. But, listen my friends, it's an option to go on an adventurous journey and bring uniqueness into your home. I sometimes find myself overwhelmed at times with too many choices.
Tile is one of the most versatile materials…
you can use in your home with options that can blend with  practically any style in almost any room. With so many inspirational colors, textures, patterns, and dimensions, the limitations are often only found in your personal creativity. Can you say #creativebrainoverload?
We place mementos on our walls of a time we want to remember. We find artwork that speaks to us and allow ourselves to get lost and be transported back in time. Tile is no different than abstract art that subtly reminds you to take pause and be grateful. My favorite part may be the mystery of my choice in these surfaces. The color and texture attract me and then remind me that this is about an artist creating a design …they are secret sources to me that make a project come alive! I yearn to share them in the homes I create with applications on surfaces as varied as the tiles.

What does this remind you of? Blues like rain, or vintage cobalt glass you could win at the Atlantic City Arcade, traveling in the summer with friends, and the smell of the ocean.
The crispy top of the most decadent creme brulee I had on a romantic evening. I can still smell the sweet smoky aroma of the caramelized sugar so close to its ruined bitter threshold.
Imagine, every time stepping foot  into the bathroom, you're reminiscent of hunting for Seaglass; combing through the beer bottle browns looking for the rare blues, purples, and red sea-polished broken glass.
The first time you went camping and tried to put the tent up…only to be greeted by a summer downpour and rented the log cabin instead. Would you smile passing through your foyer trimmed in this wooden textured tile?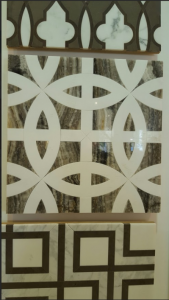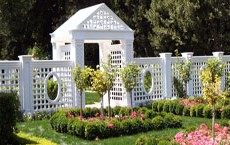 Maybe you are a  garden lover and spend your free time traveling to different gardens? Bring your fondness for the outdoors inside with a trellis style tile that you can pair with indoor plants. Incorporate your passion into your decor and find yourself feeling more relaxed and calm.
If you find serenity in a physical location and it makes you happy, bring it home with you and meld  it into your decor.  Adding Tile to your home, is only limited to flooring and backsplashes if you let it. Look at this tiled accent wall that brings a grandiose feeling to this space, flicking light all over the room. Grab some samples, anything that speaks to you, bring them home and then you can refine. See how they look with the lighting in your home and then refine some more. It's better to have too many choices than feel that you're limited to a cold uninspiring tile that doesn't move you.