Transcend the Ordinary Bathroom Design
Lavatory, Washroom, Retreat, Comfort Station, Spa, Restroom, and Privy are all synonymous with Bathroom.  Depending on your background, the "room-to-do-your-business" has many names, but usually the same concept. If you are running in and out of the space like it's an airport terminal and just passing through, then you are missing out on the creativity that may confront you…a relaxing oasis. As a Designer, I am always looking for an opportunity to make this ordinary bathroom experience extraordinary! Thinking about this "invisible gem" in a different way can affect your mood and your attitude so pay attention. Your bathroom is a place to spend a little "me" time and relax and unwind.
Transform your bathroom design by breaking down the remodel into manageable steps and always think out of the box. Ideas that may seem initially strange, may be that little twist of genius that can make this space your personal retreat…how exciting!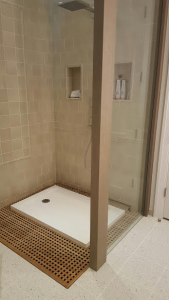 Reinvent the space –  Long gone are the days of small basic bathrooms. A large open bathroom can be the highlight of the home if designed correctly. Re-purpose similar items to bring a unique aspect to your bathroom, like boat decking that provides instant drainage for an open shower. It's a functional piece that meets all the requirements and is beautifully executed. Choose a focal point to build upon and don't make your space fit into someone else's box. That is the imagination I am speaking about….trust your inner design instincts!
Lighting – bathroom lighting should be one of your first considerations, often it is left for a final decision. Mistake! Proper lighting is essential to the design and feel of your room. Do you have natural radiance you want to accentuate, or do you need more lighting with optional dimmers to create the spa atmosphere? Is there a focal point to cast light on?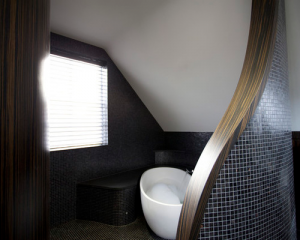 Design Style – Elegant curves and organic contours look elegant in minimalist ambiences. Is the room perfectly square or elongated? Can you add a curved vanity and rounded claw-foot tub? Do you prefer sleek crisp lines, or prefer more organic natural shapes? These are all questions that need to be asked and answered when bathroom planning is your assignment. Perhaps a list of things to consider is a basic way to start?
Bathtub and Shower –  These fixtures are the heart and essence of the room. Can you picture a deep relaxing, massaging tub that is beckoning you to come lie back and relax as you soothe your aching self while catching up on a good read and nice beverage? Paired with a separate shower and built-in seating, body jets, and waterfall shower heads, ahhhhhh! You've hit the sweet spot for ultimate lavishness.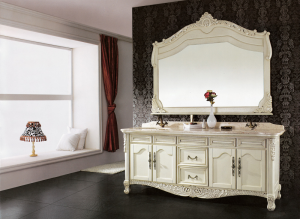 Mirrors –  A necessity for every bathroom, but you don't have to settle for builder grade options from the bathroom section of the hardware store. Peruse your local second-hand stores and vintage shops for a mirror that accents your style. Wall to wall mirrors compliment sleek minimalist designs and with the right built-in lighting, can elevate the elegance of the room.
The finishing touches  – Don't roll down your sleeves quite yet. You've created this soothing haven so don't forget to breathe life into it. Bring in finishing touches similar to other parts of your home. Artwork, plants, candles, and even a foot stool can add those important touches to this retreat. If fixtures were the icing, the finishing touches are the delicate floral piping and sugar flowers that make the cake a work of art.
You won't have to travel far to find peace and quiet. You can now escape to tranquility in your own home. No more "airport-runs" through your bathroom as it has become a highly fashionable and functional space. Make sure your vision is clear before you destruct so your construct is orderly and exciting.  Before you begin it is always best to ask a professional. My sign is always out for help and advice: Sandra Oster Interiors. You'll end up with a room that you will  never want to leave.