Let's talk about accent chairs!
Accents are really the icing on the cake when it comes to design. The right accents in a room can draw your eye to a tiny corner that might otherwise be overlooked, or add just the right amount of drama to a space with a pop of color or an interesting texture. Either way, accents elevate the overall design aesthetic to create beautiful, classic rooms.
Sometimes, I like to use interesting chairs as accent pieces…after all, even the smallest of chairs can sit tall when used the right way! I love the innovative design and exquisite details of the Wyllie chair from Century and the Thomas O'Brien collection. The linear lines of the back soften into a seamless slope toward the seat, reminding me of mid-century modern design at its best. But the texture of the fabric and addition of nail heads (always an option!) bring a classic, traditional touch that will align with any design style. Its clean lines and diminutive size would work perfectly as an accent in a small nook of a bedroom, or a pair of them will bring inspiration and innovation to a lonely corner of your family room.
If you are looking for something a LITTLE more austere, the Icarus chair from Patrick Naggar at Ralph Pucci fits the bill. Though small in stature, it packs a strong design punch when used as an accent piece. I love its sleek, refined wood finish and dramatic lines – it's a perfect complement to a bigger, more opulent piece, such as a commanding stone fireplace or a beautifully upholstered sofa. This minimalist piece will make a strong statement in any room—its size make the possibilities limitless!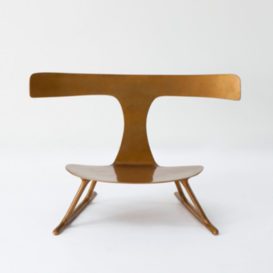 Another gorgeous option is the Salon Chair from Christian Grevstad at Dennis Miller. This chair could easily have lived in a chic, 1920s lounge once upon a time. But lucky for us, this version is perfect for NOW. The natural caned back gives it an elegant, defined shape, which is tempered by its sumptuous cushion. The result is a sophisticated yet inviting piece that would work perfectly in a small corner of a living room, perhaps paired with an eclectic overhead lamp to encourage reading. But I love it on its own… timeless elegance really doesn't need any other enhancement!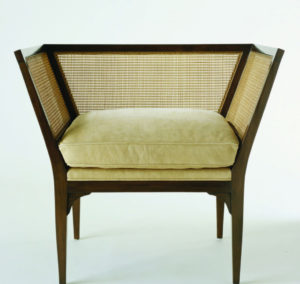 One of the most gratifying parts of designing a room is creating interesting focal points. These final details are so important, and really make the difference between creating an ordinary design and an extraordinary one. Standing ovation for these sitting treasures!