Color, color…where art thou????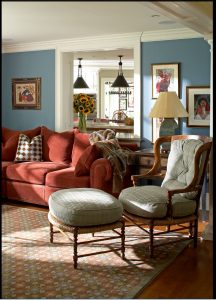 My last blog explored the sophistication of a subdued color scheme. This week, we are going BOLD — with bright, dynamic colors that pop and add dramatic flair to living rooms, family rooms and bedrooms. Color can be a truly magical element in design, but so many people worry about making mistakes. As such, they often choose more neutral palates that seem easier to work with. But I'm here to show you that there is nothing to be afraid of!
The key to using many strong colors in one room is to find one element that brings those colors together. For this family room, which I designed for clients in Connecticut, I drew inspiration from the area rug. I picked a vibrant coral for the couch and vivid blue for the walls. That pairing may be unexpected, but it works so well together because the colors are repeated in the rug. I found another fabric with the same tones and used it for the throw pillows to reinforce the interesting color combination. Beautiful!
The multicolor draperies provided the color foundation for this next room. The orange leather of the ottomans and green and blue in the throw pillows are all represented in the drapery fabric. The use of the unifying fabric really makes the room come together in such a lovely, organic way.
Another "trick" I like to use with color is to make a statement with one striking hue. Look at these next rooms. They all use different shades of blue as their main color component. But when I added bright reds as an accent color, the results were simply stunning. A strong color used sparingly is just as powerful as an explosion of color.