What is white?
It is the softness of freshly fallen snow and the creamy pureness of whole milk. But is it really a color that can dominate a design scheme? I say YES—as long, of course, as it is used the right (white?) way. I heard someone the other day talking about white: "White is not shy but illuminates its bold face when presented in a powerful way." I wholeheartedly agree!
Many people associate the color white with a very modern, antiseptic look. After all, how many times have you seen an all-white living room that looks too precious to walk into, much less live in? But when used correctly, white can be both warm and elegant, a perfect foundation for a serene bedroom or living room. The key to using white, I think, is using different textures and hues—ivory, cream, and of course pure white—to create a sophisticated palate for the design scheme. Once that is established, the softness of the color really allows other pieces to take center stage. Take a look at these rooms from Holly Hunt:
Notice how dramatic the artwork and chandeliers are in the spaces? I sure do! The muted color scheme really make those pieces stand out. And while the white itself adds elegance, the different textures and fabrics used make the rooms warm and inviting.
Bedrooms are another place where a white palate works really well. I designed these master bedroom suites for different clients in Greenwich and Westchester: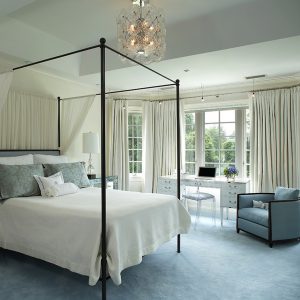 Each of these spaces uses a different tone of white and a variety of textures to create sophisticated yet relaxing bedrooms. The subtle colors provide the perfect basis for a refined, gorgeous look that is also completely livable. Good night, white!