Use Lighting to Expose Beauty
One of my signature design statements…lighting! I love lights whether they are big lights, small lights, bright lights or dim ones — they are all beautiful and can add drama, romance and/or elegance to any room. A gorgeous chandelier can be the focal point of a living room or dining room, the right sconces can perk up a foyer or stairway, and pendant lights are a must for your kitchen or even hanging over your nightstands as bedroom lighting. We all see and appreciate lights and chandeliers, but how closely do we examine the pieces that make up these amazing fixtures?
Decorative Lighting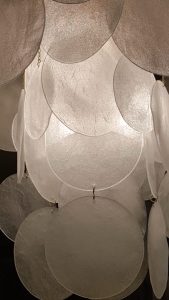 The purpose of decorative lighting – whether a sconce, floor lamp or hanging chandelier — is to use illumination to expose beauty. Look closely, and you will see that many fixtures are really pieces of art. Take this stunning pendant chandelier…the glass balls clustered together each reflect and bounce light from one sphere to another, causing the light to literally dance on the ceiling above. What is hard to see with this "ceiling jewelry" is that each handblown glass ball is surrounded and suspended within a metal circle and all of the circles are welded together, stupendous! I can see this fixture resized in a small, elegant powder room, or in a formal foyer, or a set of them leading down a graceful hallway gallery. Powerful statement with no words necessary.
This chandelier uses flat cuts of fogged glass for a completely different, more subtle effect. The light is filtered softly through the glass, creating a sophisticated, romantic atmosphere. I love how the light seems to move through the fixture, even though there is no motion. Perfect for a bedroom or living room! Can you see this hovering over an amazing glass dining table with the reflected light showering the space? I certainly can!
Distinctive Shapes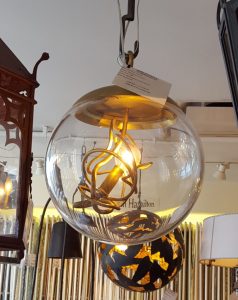 Organic shapes also help a light speak its importance. This piece from John Rosselli is one of the most distinctive I have ever seen. The gnarled candelabra wiring inside the glass ball is its own masterpiece — a sculpture meant to capture your eye (and make you look twice!). Its asymmetry contrasts nicely with its perfect sphere casing and causes light to reflect in different angles. So interesting — definitely a conversation piece in any room. What a powerful statement with 3 in a row over a Kitchen island, can you see it? I can easily envision the powerful, creative statement.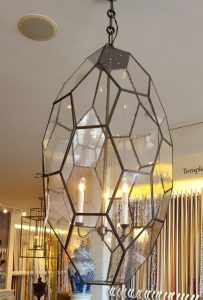 Finally, one of my favorites, also from John Rosselli displays multi-angled glass "faces" in hexagonal panes producing an illusion of thousands of lights around the room. The result is spectacular, but just one of the amazing lighting options — really, lighting artwork — I see every day. Thomas Edison would be proud — I'm sure he would have never guessed what a light bulb can do when placed in such settings! Since lighting seems to be a life-love of mine, stay tuned for more blogs about lighting: sconces and recessed radiance that add dimension and dynamism to your spaces… and mine!