Flowers are the final "signature" to deliver a room!
Okay, your room is ready! Everything looks amazing but something is missing, What could it be? There are colorful accent pillows in position, coffee table books piled high with a crystal paperweight as a topper, nests of silver frames artfully scattered throughout the space. Art hangs from the Venetian plastered walls positioned for everyone to appreciate and seemingly millions of votives strewn throughout the living room cast a romantic glow. But still, something is missing! Flowers, the delicate, organic and sometimes colorful element are no where to be found. Never forget how important these blooms are to the success of a room. Flowers can always make or break a room with their softness, their drama and their fragrance.
Flower Color Choice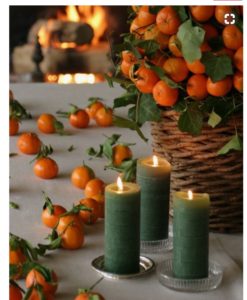 When I design a room, flowers are always the last important touch to making the room compete. If I am entertaining and need to pickup the "spice" of the room, I add colorful and dramatic flowers. In a  monochromatic room, a shot of orange roses combined with yellow lilies can be an incredible coffee table addition. In a colorful patterned room, shades of white flowers such as roses, peonies and hydrangea are always proper and calming. You need to look at flowers as art and position them based on their "weight" and color appropriately…small single flowers in glass vases on side tables and a globe-like cluster of one specific flower occupying a premier spot on the main coffee table.
Flower Fragrance
If I am serving food, I try to stay away from using flowers that have a strong fragrance such as lilies, freesia and lilacs. Too much "floral perfume" can destroy your taste buds and overwhelm your good food! But if your living space is being used for conversation or perhaps reading or relaxing, nothing can say as much as the soft, filtering fragrance of lavender or roses.
In today's market, there are a lot of interesting and creative ways to use flowers that are not "alive and literal." Some of my photos show traditional bouquets while others show large paper flowers for baby rooms, enlarged and detailed flower images as art by David Leaser, and even fruit as centerpieces to a successful room. Be daring! Don't be afraid to experiment!And finally a basic trick….remember that even grocery-store bouquets can be romantic. Take an inexpensive bunch, pull apart and position the flowers in a color oriented way and enjoy…the room will come to life with your expression of flowers! Don't be afraid to experiment with many different kinds of flowers and if you don't have an abundance of blooms, go outside and cut some greens from any tree or bush and they can add a dramatic volume to your arrangement!